These online tools constitute additional online components of the data platform in which scenarios are published:
SLAMM View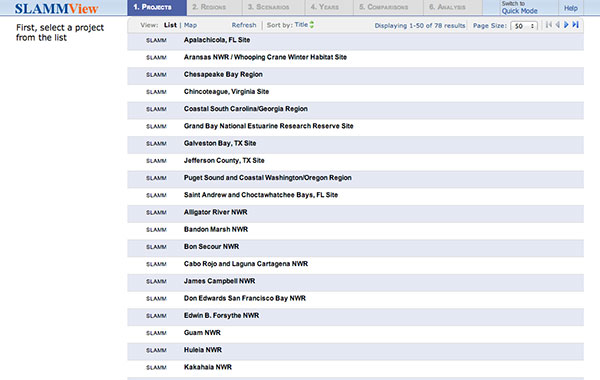 http://www.slammview.org/slammview2/
The SLAMM View website was created by Image Matters LLC, with support from the US Fish and Wildlife Service, and consists of a web browser based application that is designed to be used as a tool to assess the impacts of sea-level rise in coastal areas from the results of the SLAMM. The tool hosts SLAMM model results from multiple project sites from across the US, including the results from this project. The tool allows the user to visualize the results within the web browser and then compare two scenarios side by side to assess the changes that are occurring between the two scenario results. The tool also provides the map legend and has the option to perform an analysis that calculates change statistics for all selected scenarios throughout a given model's time series of scenarios.
All project site sea level rise and storm surge scenarios in the data platform are published in SLAMMView.org.
GOMA Portal
GOMAportal.org is a metadata catalog and data repository for Gulf of Mexico related geospatial datasets. Funded by the Gulf of Mexico Alliance (GOMA), GOMAportal.org houses the results of a multi-year project by the GOMA Ecosystems Integration and Assessment (EIA) Priority Issue Team (PIT) to improve the state metadata for geospatial datasets for the Gulf of Mexico. Lead by EIA PIT members at the Harte Research Institute for Gulf of Mexico Studies (HRI), EIA PIT state partners collected geospatial datasets and metadata records, and upgraded them to be compliant with the Federal Geospatial Data Committee (FGDC) Content Standard for Digital Geospatial Metadata (CSDGM) standard, preserving as much of the original character of the metadata as possible. Where possible, the original datasets were also obtained and renamed to have meaningful file names. Finally, available data was packaged with the upgraded metadata, and made available for download via FTP.
All project site sea level rise and storm surge scenarios in the data platform are published in GOMAPortal.org and GIS files are available for download.